Preparing Girls To Takeoff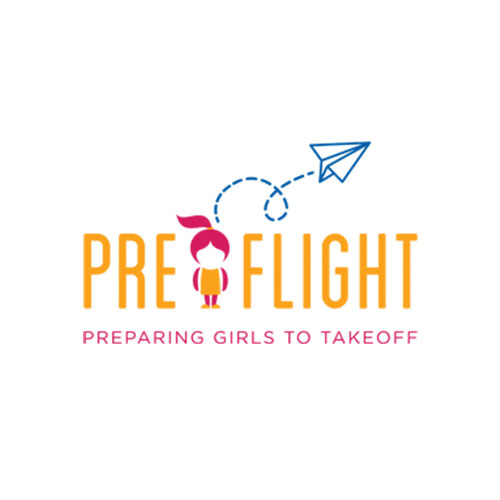 Happy October PreFlight Supporters! It seems like yesterday we were graduating our campers at PreFlight Aviation Camp 2018!
Even though it was only our second year having camp, many of the activities already began to feel like a tradition. One such activity was when campers designed a unique class patch. However, creating the patch was more than just a fun camp project. It was a collaboration of ideas that fostered unity, empowerment and sisterhood.
This year, campers proudly wrote the phrase, 'Soar on the Wings of Your Dreams' at the top of their class patch, which they presented during the camp graduation ceremony. They also each wrote a special message on the back.
For me, the class patch not only represents the lasting bond and legacy of our campers, it is a reminder of how transformative PreFlight Aviation Camp is for the girls that attend. Their words are the true measure of our success.
Although PreFlight Aviation Camp is small, the impact is great. As we look forward to a new year, I continue to feel so grateful to all the members of PreFlight's dedicated team. Thank you all for helping me soar on the wings of my dreams and continuing to make PreFlight Aviation Camp a reality.
Sincerely,
Liz Duca,
PreFlight Founder and President
---
2018 Camp Highlights and Meaningful Lessons
Aerodynamics
Positive pressure below a wing creates lift to help an airplane fly. Positive thoughts can help lift us up too! 
Flight Controls
Airplane flight controls change the direction an airplane flies. We can control the direction of our paths too! 
Navigation
A pilot creates a flight plan to navigate to a location. We can create a plan to navigate towards our goals too! 
Communication
A pilot clearly communicates with air traffic controllers to accomplish their flight. Using positive communication helps us work with others too! 
Weather
A pilot might encounter unexpected weather during a flight, but they can still reach their destination. We might encounter obstacles in life, but we can still reach our destination too!
Weight and Balance
Balancing the weight on an airplane reduces the stress and keeps it within limits. Balancing the activities in our lives and knowing our own limits helps us reduce stress too!
THANK YOU TO OUR SUPPORTERS!
PreFlight 2018 would not have been possible without the incredible support from the following organizations:
Texas State University
Det 840 Air Force ROTC
Redbird Skyport
San Marcos Regional Airport
LeTourneau University
Bell Helicopter
Easy Tiger Yoga
CAF Central Texas Wing
CFAN
Gleim
ASA
Annual #GivingTuesday Fundraiser
27 November 2018!
This past year we reached our goal to provide HALF of our campers with a full scholarship to attend PreFlight Aviation Camp in 2018. That is nearly $7,000 in donations we raised from supporters like YOU!Fundraisers like #GivingTuesday helped us achieve that goal and we are excited to be participating again on 27 November 2018. We raised nearly $2,500 last year during #GivingTuesday and we hope to match that amount in 2018 too!
Visit our donation page HERE on 27 November 2018 and give the gift of PreFlight Aviation Camp to a young girl this season!
Are you or someone you know a federal employee? If so, then you can select PreFlight Aviation Camp as your charitable organization for the Combined Federal Campaign (CFC). This summer, PreFlight was selected to be listed as a charitable organization during the CFC, the largest charitable campaign for Federal Employees! This year's charitable campaign season runs until 15 December 2018. Inquire with your Federal employer to learn how you can select PreFlight Aviation Camp for your charitable CFC donation (EIN 82-2047394) or visit the Combined Federal Campaign's website.
PreFlight's STEM-based approach for teaching young girls about aviation is a one-of-a-kind, transformative experience, which only PreFlight can offer. The exact dates for our July 2019 camp session are yet to be determined. Once the dates are finalized we will update our followers and supporters. The deadline for enrollment will be May 31, 2019. Girls must have permission from a guardian and submit a short essay about a woman that has inspired them.